If you're running a website these days, you're probably aware that you're part of a crowded marketplace. Experts estimate that there are a whopping 2 billion websites worldwide, though "only" around 200 million of them are active.
Given this, it's hard to deny the importance of standing out from the crowd—especially if you want your brand to capture and keep your audience's attention.
That's where an enterprise website design agency can help. The best web design agency can bring your design goals to life, all while offering expert recommendations to help you stay ahead of the pack. But how can you be sure you're putting your trust in a team that can get you there?
If you want to launch an effective design, asking the right questions is crucial. Before you partner with an agency, here are a few key questions to bring to the table.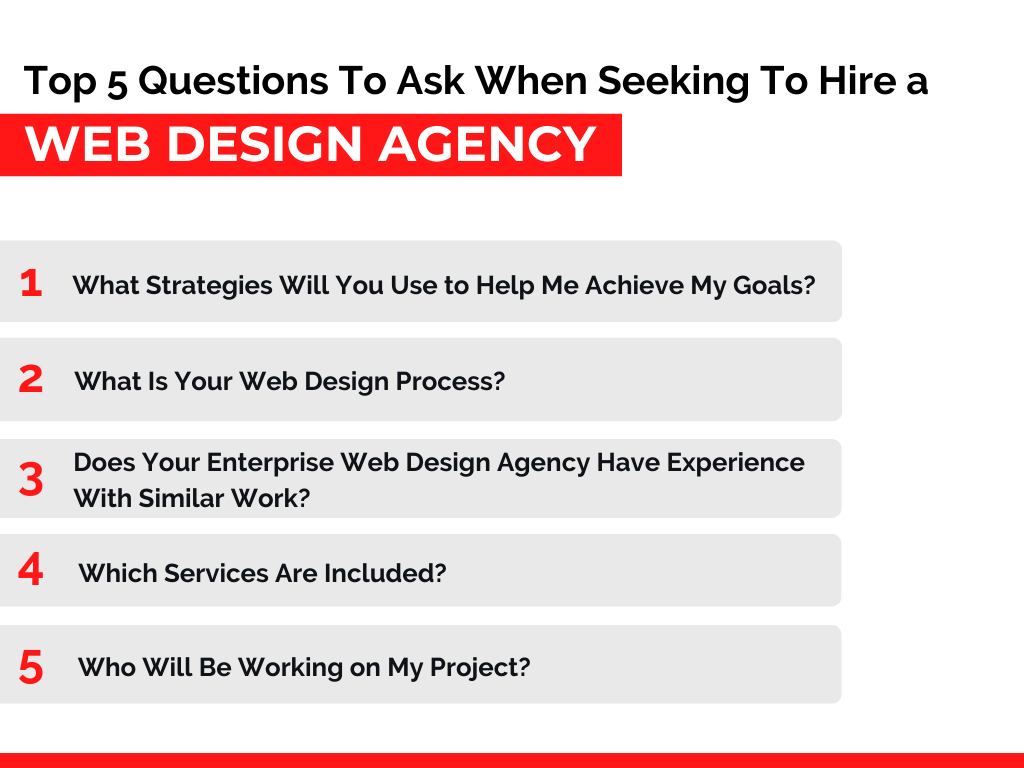 1. What Strategies Will You Use To Help Me Achieve My Goals?
Before you begin your search for the right team of web designers, take some time to write out a list of your current needs. Unless you know your intended destination on the front end, it can be hard to find the right team to help chart your course!
Once you know what your goals are, use them to pinpoint a web design agency that can help. Whether you're looking to build a complex e-commerce site or you're hoping to provide unique experiences for different users, ask prospective partners about the tools and strategies they'd use to help.
The best agencies will be able to detail the exact methods they'll use to achieve your goals, with insights from their past projects as well as research into your current competitors and industry trends. In fact, this is often what sets a good initial meeting apart from a less promising one: an agency that offers clear recommendations is always a better bet than one that only points to past work to tell you how great they are.
2. What Is Your Web Design Process?
Experienced designers will always work to understand your needs and build their strategy around you—but that doesn't mean they shouldn't build off of an existing process. Brands that use smart, repeatable processes not only save time but often launch more streamlined and effective work than brands without them.
Ask a prospective agency or freelance designer about the process for any deliverables relevant to your goals, including a high-level rundown of the steps and their timelines. Any team in question should be transparent about their project in all its stages. If they can't explain a process they expect you to pay for, run!
3. Does Your Enterprise Web Design Agency Have Experience With Similar Work?
No matter what kind of help you're looking for, any web design agencies you consider should have relevant experience. From top-tier mobile-friendly design to email and social media integration, get a sense of what features your team has implemented in the past.
Note that the agency in question doesn't need to have a portfolio brimming with examples from your specific industry, as long as they have a history of working on features similar to the ones you want.
If you haven't done so already, now is a good time to sift through any case studies on the agency's website or to ask them to send you more. Look at the total number of projects they have on display, as well as the scale and technical complexity of these projects. If you're hoping to achieve a specific aesthetic, get a sense of whether or not the agency has worked on elements matching your ideal design.
4. Which Services Are Included?
Every web design agency will have different capabilities and package its deliverables in different ways. As a result, you'll need to make a point of learning which services each team can provide you on the front end.
Does the team of designers have experience in UX, or would they need to outsource it? Will you need to outsource your content writing? Can a freelancer or agency help with your SEO as well?
If you know you'll need multiple services at once, partnering with an agency that can handle it all is always a more effective option.
5. Who Will Be Working On My Project?
Depending on the project in question, you may be working with your chosen team for weeks, months, or even years. In other words, you'll want to make sure they're a good personality match—and that you know who you'll be reaching out to!
Get to know whoever will lead the design and development, whatever their title may be.
You'll also want to ask about any key players involved in your project. How long have these key players been with the company? What projects are under their belts, and how many years of experience do they have?
In addition, find out where the members of the team are located, as this can affect your communication and timeline. Ask how you'll keep in touch, and find out which team members will be involved in any meetings you'll have with the company.
Find The Best Web Design Agency
Finding the best web design agency for your site can feel like a monumental task, but asking the questions above can help. If you're lucky enough to hear the right answers, you'll be better poised to choose a partner with the capabilities and expertise to bring your project to life.
Hoping to get more out of your web design experience? If you want to hire the right enterprise website design agency for the job, our team is here to help. Feel free to get in touch with us today for answers to any of your pressing questions!