You've likely heard of WordPress before. If you haven't then know that over 43% of all websites on the internet use WordPress. So, two out of every five websites you visit anywhere in the world are built on WordPress. Pretty impressive, right?
This means that if you're in the market for a new website for your enterprise that WordPress is a great option. However, there's more to know about WordPress website design than the mere fact that it's popular and widely used.
In this quick guide, we'll give you five reasons why WordPress is a great choice for businesses of all sizes. Keep reading to find out more!
What Is Enterprise WordPress Website Design?
Enterprise website design is the process of designing, building, and maintaining a website for a mid-level to large enterprise.
This type of WordPress design usually involves multiple teams working on different parts of the website, such as the user experience team, the visual design team, and the front-end development team.
Enterprise website design projects are often very complex, or they at least have a lot of pages that make up the entire website. As a result, enterprise website designers must have strong communication and project management skills.
5 Reasons To Use WordPress For Your Enterprise Website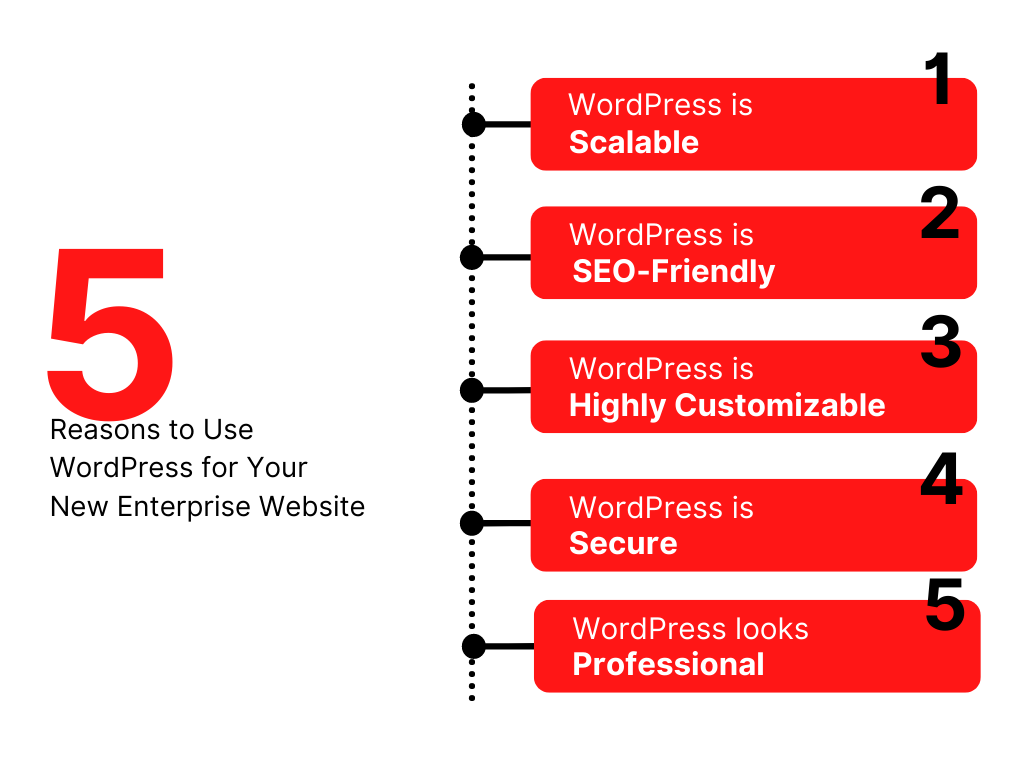 You might know that you need to build a high-quality enterprise website, but why use WordPress? Aside from being the most widely-used CRM in today's digital market, there are other benefits of this platform as well.
1. WordPress Is Scalable
WordPress is a content management system that allows you to easily build a premium website. However, more than that, WordPress is scalable. This means that it can be used for small businesses with limited budgets and resources, as well as large businesses with complex websites and large amounts of traffic.
This is because it has a flexible plugin architecture that allows businesses to add new features and functionality to their website as they grow. Basically, as your business grows, WordPress can grow with you. This provides you with greater flexibility in your budget and operations.
2. WordPress Is SEO-Friendly
Having WordPress web designers build you a custom WordPress website is one thing. A pretty website doesn't mean much if nobody ever sees it. This is why search engine optimization is so important.
And, WordPress is pretty great for DIY SEO or even if you're working with a professional Toronto SEO company. It offers several features that make it easy to optimize your website for search engines.
For example, WordPress automatically generates meta tags for each post and page, which makes it easy to include keywords that will help your website rank higher in search results.
WordPress also makes it easy to create sitemaps, which help search engines index your website more effectively. In addition, WordPress provides several plugins that can further improve your website's SEO.
3. WordPress Is Highly Customizable
If you've been in business for a while or know a little bit about website design then you'll be able to identify a website built on Wix when you see one. The same goes for a few other platforms. This typically isn't the case with WordPress, though.
WordPress is a highly customizable platform. You can change the appearance of your site with themes, and customize the functionality with plugins. There are thousands of themes and plugins available, so you can really make your WordPress site unique.
WordPress is also open source, which means that anyone can contribute to the development of WordPress. This makes WordPress a very versatile platform that can be used for a wide range of websites and applications.
4. WordPress Is Secure
Website security ultimately comes down to your hosting server and the SSL certificate you have installed. However, WordPress uses an array of security measures to keep your site safe from hackers, spammers, and other malicious activity.
Furthermore, depending on your website development team or hosting provider, you can regularly (and easily) back up your WordPress site, so if something does happen, you can restore your site to its previous state.
Finally, WordPress is constantly updating its software to the latest version to ensure that all security vulnerabilities are fixed. As a result, WordPress is one of the most secure platforms for building and managing a website or blog.
5. WordPress Looks Professional
Finally, WordPress websites look high-quality and professional when compared to websites built on other platforms. Sure, this depends on your WordPress website designer (and we'll get into that in just a minute), but the platform provides everything you need to build a great website.
WordPress websites have a professional look and feel, and they're easy to set up and customize. WordPress also offers a wide range of plugins and themes, so you can easily add new features to your website or change its appearance.
WordPress websites are also highly responsive, so they look great on all devices. And because WordPress is an open-source platform, it's constantly being improved by a community of developers.
Work With The Right WordPress Enterprise Website Design Agency
WordPress enterprise design agencies have the experience and expertise to help you with all your WordPress enterprise needs. They will work with you to ensure that your WordPress site is designed and developed according to your specific needs and requirements.
With their help, you can easily create a premium WordPress web design that is both user-friendly and professional. In addition, they can also help you with WordPress hosting and maintenance.
So, if you are looking for a WordPress enterprise website design agency, make sure to choose one that has a lot of experience and expertise specifically in WordPress. This way, you can be sure that your WordPress site will be designed and developed properly.
Make sure they will design to rank. This means that they will design with SEO best practices in mind and incorporate the right copywriting techniques to help you attract your target audience. If you're looking for a professional WordPress web designer then…
Work With The Best Media
We are a Toronto WordPress web design agency. We offer premium web design services to enterprise businesses just like yours. We're here to help ensure that your website is functional, optimized, and rankable.
Click here to schedule your free consultation today. We're excited to chat about your WordPress website design.